Overview
Multi screen synchronization with object and sound movement.
We call this NoBorders.
DISE NoBorders provides excellent broadcast-quality synchronized playback, by utilizing multiple players and creating large multiscreen canvases. Each player is playing one part of a larger DISE Movie, in synchronization with other players. The synchronization is achieved via multicast IP.
Very high resolutions (no limit).
Spread processing of playback over more than one player.
Easily use several screens and still keep the 1:1 content/screen pixel ratio.
Mount the screens in any positions, up, down, square, line, escalator...
Designing content is as easy as designing for just one screen.
Automatically compensates for bezel or spacing between screens.
Installation

Main article: DISE NoBorders Installation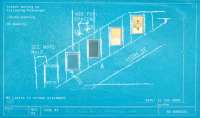 Features
DISE Pro with NoBorders is designed for advertising in public areas, for sports arenas, digital menu boards and large events and for any project where you need synchronized content on multiple screens such as time-linked outdoor LED-screens.
Any Screen Placement
The NoBorders multi screen feature utilize a screen definition feature enabling unlimited placement and resolution of individual screens on a joint canvas. This makes digital signage for staircase, arenas or events much easier and helps to create eye catching installations.
Content Editing
Editing content for a NoBorders installation spanning multiple screen is no different from editing content for a one screen installation. All screens are seen as one big canvas and objects and effects can be used over all screens.
Content Distribution
Distribution of content is done though DISE Bridge. All content distribution is done automatically and is distributed to all players that need that individual content.
Sound Panning
Just as well as objects can move visually from one screen and thus from one player to another so can sound, creating interesting effects. Sound can thus appear to move from one screen to another.
External Triggering
A normal DISE installation enables external triggering and control of playback of different content. This makes it possible and easy to add interactivity to a NoBorders installation and to play different content depending on external events.
See also